Below are Audio MP3's, The 1st 2 CRY ENVY Albums "NEVER SAY PLEASE" recorded in 2005 & "WELCOME TO MY HOUSE" recorded in 2007 is available for FREE Downloads on http://www.reverbnation.com/cryenvy that's right ***FREE***
The 5 tracks below are from the Original very 1st Demo's with the 1st Cry Envy Guitarist whom I recruited David O'Boyle we did 8 tracks I will look for the additional 3 soon. They are rough on a few.
This LIVE Audio - CD-R is for sale @ $10.00 in the United States. Outside of the States OR For E-mailed MP3's (for a physical CD-R will vary in cost due to shipping, OR you can contact me and set up for an E-mail containing MP3's for $10.00 which will cut your cost.)
01 Eye's on you - early CRY ENVY demo.mp3
02 She's my poison - early CRY ENVY demo.mp3
05 Let us prey - early CRY ENVY demo.mp3
I will eventually add some Rough demo's below from the 100 tracks I wrote prior to the recording of "NEVER SAY PLEASE". Look for that in coming months.
Below are the 9 tracks from "NEVER SAY PLEASE"
This "NSP" Album - is available for *FREE* Downloads @ http://www.reverbnation.com/cryenvy
Tell it like it is, She leaves the lights on, Never say please & Turn me on - Music and Lyrics by, Brian Riggins 100%.
A Love to last all time, Take my Heart and Tip of my Tongue - Lyrics by, Brian Riggins 50% & Music by Brian Riggins 25% and Bret Santti 25%
She's got me & Down, Down - Lyrics by, Brian Riggins 50% and Music by L. Oliver 50%
The percentage note the amount of the song and who wrote what to make it a full 100% it is laid out. Lyrics count for half the song and the music is the other half.
From Jan 22nd 2010 an off shoot of CRY ENVY called "ROXXY" this was taken from the last Live show. with this Line-up before it changed back to CRY ENVY. in this Line-up we have me, Brian (Roxxy) Riggins, On Guitar Erik Soprano, On Bass - Alister Coxx (A.K.A. Alan Harrison) and on Drums Johnny Walker (this would be his final show) it was recorded @ The Shire Road Club (formerly Pub),Sacramento, CA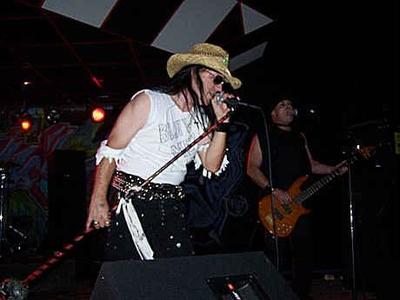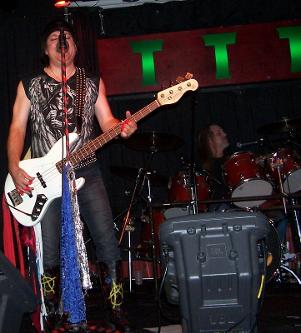 5. Intro & Don't Cheat On Me (Live Aug 31st 2013).mp3
6. Let Us Prey (Live Aug 31st 2013).mp3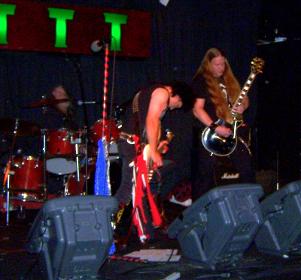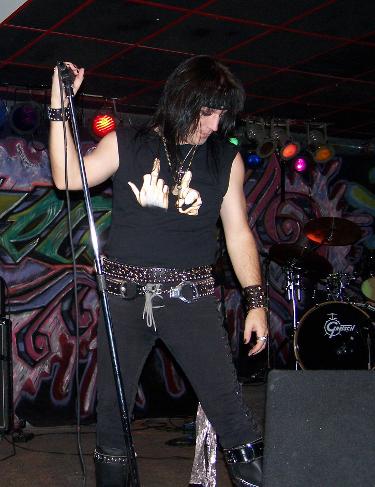 Below is the 2nd Full CD from CRY ENVY called "WELCOME TO MY HOUSE" (recorded but never fully released)
This 2nd Album - FREE also on REVERBNATION
She leaves the Lights on - Music and Lyrics Brian Riggins 100%
Welcome to my house (if you really want to get technical I showed this to Linus and it was a song written by Andrew Lawson Musically lifted from a song called "Welcome to the cathouse" for a band Andrew and I had together Called CATHOUSE THURSDAY and the proof is in the pudding as they say. Not some delusional thinking on a guitarist part) So credit would be Andrew Lawson 50% and Lyrics by Brian Riggins 50%
The other 8, we created by me (Brian Riggins) bringing in the Lyrics and melodies and Linus wrote the music around them. No music was ever brought in empty, they were built around the Lyrics and melodies. But with that being said I still will only claim my rightful 50% for just the Lyrics, Giving L.Oliver 50% for the Music.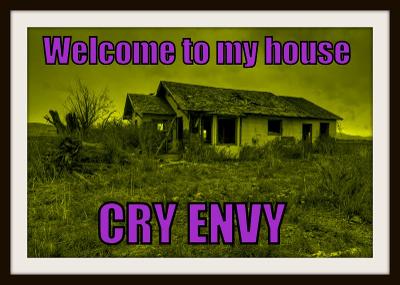 01 Welcome to my House.mp3
03 Get a Little Naughty.mp3
06 She leaves the lights on.mp3
09 It's all about you.mp3
10 Friends Under Cover Kissing (F.U.C.K.).mp3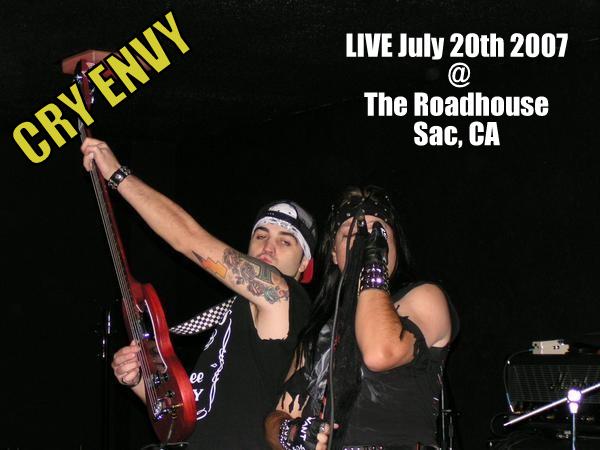 BELOW Is a LIVE show Recorded at a Club that no longer exists called The ROADHOUSE. it was in Sacramento, CA This CD was captured on July 20th 2007. This Line-up was Me (as always) on Bass - Noti Bullets, on Drums - C.C. and guitar linus oliver.
01 Welcome to my house 072007.mp3
02 She leaves the lights on 072007.mp3
04 She's got me (on her Lips) 072007.mp3
05 Up to no good 072007.mp3
06 Never say please 072007.mp3
07 Friends Under Cover Kissing 072007.mp3
08 How Could I 072007.mp3
010 Get a Little Naughty 072007.mp3
011 Tip of my Tongue 072007.mp3
If there is ANY Music on here that you would like to buy Please CONTACT ME @
brianriggins1967@gmail.com
The LAST CA/ Cry Envy line up Guiatr - Eric Soprano, Drums - Chris Jamison, ME & Bass - Alan Harrison
Old Band JUSTICE Live 1988, Bass - Randall Justice, Drums - Colin Stambusky, ME and Guitar - Johnny Mills (R.I.P.)
Some FACT's About CRY ENVY
The 1st CD was recorded in a 2 day 10 hr each Block. So a total of 20 hrs. (plus mix down time) The production was NOT what we wanted and it was all due to the engineer at the control panel.
CRY ENVY has played some 60 plus shows with 2 of those shows opening for some bigger act's "F5" Dave Elefson's Band & "Faster Pussycat"
CRY ENVY has appeared on TV, a Local News & Entertainment program Good Day Sacramento. We played "You on Me" and made it to the Solo before they pulled the plug on us.
CRY ENVY has appear on two Radio Station interviews. 1 @ 98 Rock w/Montana & The other on a Station in Oroville w/ Kelly
We've Rocked the Airwaves in Italy
We've been on 98Rocks Loal Licks program JAN 1st 06' Played "She's Got Me"
We've "Rocked it" on the Classic Metal Show w/ a 91% Rocked it.. Over other established bands like Def Leppard and Guns n Roses"
Contrary to what a former guitarist (L. Oliver) likes to say, is I suck as a singer and got bad press.. hmm Not sure where he was reading this or heard this, probably the voices in his head. You can see reviews on SLEAZEROXX.COM and ROCKEYEZ.COM as well as an indepth interview with myself on DDAYS-REVENGE.COM there are others but the link elude me right now. as well as see the copied versions here below.
CD Reviews:
A review of our 1st CD "Never Say Please" by, Skid from www.sleazeroxx.com
CRY ENVY
NEVER SAY PLEASE

Released 2006 (Cry Envy)
Track List:
01. Tell It Like It Is
02. She's Got Me
03. Down, Down
04. Take My Heart
05. A Love To Last All Time
06. Never Say Please
07. She Leaves The Lights On
08. Turn Me On
09. Tip Of My Tongue
Band:
Brian Roxxy - lead vocals
Linus Oliver - guitars and background vocals
Ziggy - bass and background vocals
C.C. - drums

Additional Musicians:
Randall Justice - bass
Colin Stambusky - drums

Review:
It seems rare these days for a Sunset Strip sounding band to actually be from California. Whereas sleaze bands seem to be popping up in Sweden like pimples on a teenagers face, Cry Envy comes from the state that popularized big hair and big riffs.
After being mesmerized by the topless woman on the promo disc that the band sent, I finally decided to actually check out the music. And ya know what Cry Envy reminds me of - the Sea Hags. They have that same raw laid-back quality to them, yet you know there is something sinister going on behind the scenes.
Despite the lackluster production job, there are some cool songs on Never Say Please, my favorites being "Tell It Like It Is", "Down, Down", "She Leaves The Lights" and "Tip Of My Tongue". "Never Say Please" is the best of the bunch, it is driven by a strong beat and simple yet effective guitar work. There really isn't a bad track here, but there are few that completely stand out either. Cry Envy has some work to do, but I think they can turn themselves into a well-oiled machine in due time.
The only real problem I have with Cry Envy is that they pick a certain groove and rarely mix things up, the majority of songs are all delivered with the same speed and feel. With a bit more experience they can fix that, but for now the guys have done a pretty good job. Maybe rock isn't dead in America after all!

---
The 1st CD "NSP"
Cry Envy ~ Never Say Please

Cry Envy is a throwback to the days of party / sleaze hard rock that many people would enjoy finding. On the first sounds of "Tell It Like It Is", the realization sets in that it's time to grab a frosty brew and think back to the good old days of big haired women with the spandex or fishnet stockings. Of course plenty of the men were wearing the same thing which is almost disturbing when I think back.

While most of us can laugh at some of the people still trying to look like that at my age, bands such as Cry Envy can bring a new generation into the mix to get us some fresh eye candy once again.

The party atmosphere continues on with "She's Got Me". This one reminds me of a Poison type song but with better singing. No offense to Bret, but I like Cry Envy vocalist Brian Roxxy's voice better. It's a slower type grooving song that gets the head bobbing along.

The next song, Take My Heart, again some how reminds me of Poison, but with a newer Temple Of The Dog feel mixed in. Especially the music. I know that sounds strange, but it's my review and brain works. You'll have to hear it for yourselves. I enjoy it though.

"Down, Down" is the first that brings the "sleaze" type sound into the mix and is a nice addition. That bluesy, yet fun sound. Any fans of Dangerous Toys or Smashed Gladys would enjoy this one.

Next is "A Love To Last All". As the name may suggest, it's that power ballad song that would be a must on this type of album. It's not the cheesey type one would expect from one of those 80's compilations (since I've been comparing them to those bands) but a nice song to have in here and is done rather well. I could imagine squeezing a tit or two to this song.

The title track "Never Say Please" comes next. The tempo picks back up along with the beer swilling here. This is your typical fun song. Meaning all of the drunks at the bars would be yelling Never Say Please right on cue. I'd consider "Tell It Like It Is" to be the stronger song of the two for a title track, but it's a great and fun song none-the-less.

"She Leaves The Lights On" comes in next and brings back that sleaze factor. Maybe I'm thinking of Mike Monroe's "All Night WithThe Lights On", but it makes me think of the Hanoi Rocks front man. It's a totally different style, but as a comparison, I'd still say it's comparable to something you could expect from Monroe.

Next we have "Turn Me On". Speaking of Hanoi Rocks, there's a blend of party rock and a punkish tinge here which made Hanoi great. Anyone who knows me knows that I enjoy that. Maybe not many would see a whole lot out of this song, but again, I like this.

The album ends with "Tip Of My Tongue". This one is your Faster Pussycat style song. A nice ending to the album cause it has the blend of everything. You have the grooving parts, the party song atmosphere, something for the drunks to yell, and an anthemic tune to close things.

According to Brian, they are gonna remix this with a higher quality sound before releasing it later. I would like to hear it then as well cause it's already a fun album. Be sure to look for it soon...

----
Cry Envy
Never Say Please

(9-song demo)

Band-Line up
: Brian Roxxy-vocals; Linus Oliver-guitar; Ziggy-bass; Carlos-drums
Stand-Out Tracks:
"She Leaves the Lights On" "A Love to Last All Time" "Never Say Please"
Straight out of Sacramento, California comes Cry Envy. Having opened for Faster Pussycat/ Bang Tango over the summer, the band is locked on "taking over the planet" according to their website. According to the demo, it may be a little while before that happens, but they are definitely tracking the scent of all things good and glam. Sexual and simplistic lyrics, repetitive but appealing guitar riffs, and the solid vocals of Brian Roxxy makes Cry Envy a band, that with a little more development, might ripen to be sweet enough to get plucked from the club circuit and offered a chance to work with a quality production team and take things to a higher level.
I'm a sucker for the ballad and although "A Love to Last All Time" is not all that much of a tear-jerker, the accompanying guitar work (especially the solo) and chorus deserve a noteworthy nod.
"Never Say Please" may have 'Poison-ous' roots, but goes a step further with a harder edged guitar-based core.
"She Leaves the Lights On" is my favorite track. It's got a catchy beat and memorable chorus, as does "Tip of My Tongue." Hey, do I detect a concept album here? Okay, well I'll play along. CryEnvy appears to have laid a foundation on which to build and for the record, leaving the lights on is hot.
Rating out of 10:
6.5
Review by:
Tracey L.
------
You can also find reviews on;
and a few other European websites.
There are additional CD reviews out there for the 1st CD "NSP" as well as the "LOST CD" or "WTMH" as I will call it. It was finished, but due to a break up of band members that music was taken by the guitarist, so it's out there. Not that great of a disc, hence the reason why the split and NON-Release. They use the material all 9 songs The only one that was mine is "SHE LEAVES THE LIGHTS ON" the remaining 9 songs are just kind of there, blaaa. No peaks No Valleys just straight across the board tunes
Band Member Interviews
As we mark our 3 year anniversary here at D-Day's Revenge, what better band choice can we make but Cry Envy for our latest interview? They have the "retro sound" to match our "retro site"

These guys seem very cool and have that fun-time sound that many of us are used to from our crazy hedonistic youth. Brian Roxxy is not only a great vocalist but also a great conversationalist. You'll see it all here, so enjoy.

D-Day: I see from your website that you were cool enough to show former members. How long have you been around as a band?

Brian Roxxy: Yeah I feel they were a part of the history whether their stay was a long one or short they still contributed in some forms, Good or bad hahaha. I started CRY ENVY back in Nov. of 2004. But the concept started in 2003, when I decided I wanted to return to music. I wanted something fun again and entertaining.

D-Day: You obviously bring back the party style rock or dare I say "Hair Metal" sounds generally associated with the 80's. Do you find that style on the way back in or is it just the sound you've always preferred. Explain for us:

Brian Roxxy: Well the answer is yes to both I guess, um people can put whatever label they want. It's the easiest way to describe something. But that is the closet thing to describe it (Hair Metal). I have heard everything from hair to sounding like Metallica, which I don't see.( The later) I like to think it's just Good Old Rock n Roll, For me it's Sex, Fun & Rock n Roll... And as Far as is it on it's way back. I think people are sick of all this screamin shit or American idol crap. Music for me and the rest of the Guys is it's an escape from our everyday lives.I don't want to hear how shitty someones life is or they were abused, blah blah, blah. We all have our problems, but when I listen to music I want to be taken somewhere fun for an hour or how ever long. So yeah it's something I have always preferred. We've had people tell us to play more modern sounding stuff. But to me it would be forced and sound Fake. Not to get all heavy on you. hahahaha.
D-Day: Who are your main influences?

Brian Roxxy: Well my main influences if I had to pick some are KISS, CHEAP TRICK & MOTLEY CRUE. Then there are everything I grew up with through the 70's when music had a great variety and the 80's. So it's pretty wide, but you can't go wrong with those top 3. I can't speak for the other guys, but we all have similar like which makes it good.

D-Day: I also see that you've played a show with Faster Pussycat. Have you had the opportunity to play any shows with other "name" bands? Who would that be if any?

Brian Roxxy: Just "F5" Dave Elefson (I think I may have spelled his name wrong oops) The former MEGADETH Bassist. That is really it right now. Hopefully some bigger bands soon.

D-Day: If you could choose any three bands to hit the road with for a major tour, who would that be?

Brian Roxxy: First I 'd love to Tour with Motley that would be the shit. Cheap Trick would be awesome, so I could watch them each night from backstage. And Probably Judas Priest, I love their shows they're always on that would be Killer.

D-Day: What's been the craziest or strangest thing you've experienced so far during a show? Anyone shit there pants, run-ins with looney fans, Spinal Tap moments? You get the idea...

Brian Roxxy: hmmm Spinal tap moments (Awesome Movie a band fav) I think it was our second show it was on a small stage and Linus went to run off the stage into the crowd and he got about 2 feet before he was stopped dead in his tracks as I was standing on his guitar cable and nearly yank the guitar out of his hands. I have also stepped on his volume pedal a couple of times messing him up accidentally. Oh yeah and one time I was wearing my Platform Boot's Very cool boots but a bitch to move in. I was moving back towards the Drum Rise when I stepped on a broken drum stick and did a face plant into the drums. I haven't wore them live since hahaha.
D-Day: Does anyone in your band still have the need for Aqua-Net?

Brian Roxxy: Yes I have a can in my medicine cabinet, though my hair is so long it doesn't do much to it hahaha

D-Day: Let's try a multiple choice question.

The members of Cry Envy have fallen through a time warp

and landed on the doorstep of a major 1980's promoter.

Since he is in awe at what just happened, he decides to

give you a choice of bands from the day to open up for

at Madison Square Garden. Which of the following would

you choose and why:

A) Hanoi Rocks

B) Poison

C) Faster Pussycat

D) Milli Vanilli

Brian Roxxy: I would choose B) Poison, because there would be a shit load of hot women and that is good enough for me hahahaha

D-Day: When is your new album gonna be released? Tell us a little something about it as well.

Brian Roxxy: Well we're hoping for a March or April release so Spring. We hope to have it on Itunes and all the others as well as for sale at shows and through our website. It is going to be Recorded @ JK Northrup's studio Jeff as some of you may know has played with many big bands over the years KING KOBRA, FOREINGER & XYZ to name a few plus his own Solo Record. He's a great guy and laid back so it should be a great working experience for us all. Some of the songs that will be on it are "Welcome to my house", "Up to no good", "Outlaw", "How Could I" and 6 or 8 others. We also plan on fixing up the Original "Never Say Please" and maybe adding a track or two.

D-Day: What are your thoughts on music downloading? Do you see it as beneficial or also a threat?

Brian Roxxy: Well at first I was not for it, but currently it gives people anywhere a chance to get your music right then and there. if were talking about downloading Legally... The other way what can you do, it happens... unless they can find a way to prevent it it will always happen. I still like to buy CD's from the bands I really like. I like to have it in my hands. Computer's and Ipod's have a tendency to crash and you loose everything.

D-Day: Are you currently shopping your music to record labels or do you have any interest in that at this time?

Brian Roxxy: Well the state's are kinda funny, Not the people, but the Label's and Business end of it. They are all stuck in the Screamo, Emo, Goth or whatever dumbshit name you want to call on it. There outta touch with joe public. Most are sick of it and are going back to older artist's to find good music. We personally as far as Fans go we have them all over the world currently from Canada, Most of the State's, Germany, Europe as a whole, Australia, Japan, Switzerland you name it people are picking up on what we're doing. And it's not just people that enjoyed it in the 80's I know kids as young as 4 and all the way up that are digging the stuff. I see kids in High school growing their hair out again and looking like we did back in Highschool so things are changing this kind of reverted back to question #2. But as far as Label's we have some interest but it's all coming from European Countries (Germany & Italy). So were seeing what they have to offer. As long as we can continue to play and create music we'll be happy.

D-Day: What are your main goals for Cry Envy?

Brian Roxxy: Our main goal is keep creating Fun Rock n Roll, something that you can pound your fist too and shake your ass. Get our 2nd CD released by Spring and hit the road where ever they'll have us and make new fans and friends along the way. If a label comes our way we'll check it out. But really just be honest to ourselves and play what we feel and hopefully people get it.

D-Day: Thank you for talking with us! Any final words for the fans?

Brian Roxxy: Thank you for taking the time to ask us them, that was very cool and I had fun. For the fans and people just hearing about us. I'd like to say on Behalf of C.C. Ziggy, Linus Oliver and myself. Thank you for taking the time to check us out and hopefully we'll be able to come see you in your Town. Keep the Rock Hard and the Groove Sleazy.

Brian Roxxy

Cry Envy
Brian Riggins of Cry Envy was kind enough to share his music with me and asked me to write up a review. I'm honored to do so as I love rock and roll and sampling new music is always cool!
Brain and the band have but together ten fun rockin' tunes that I enjoyed listening to very much! Kicking things off with All Dressed Up (no place to go) which I think has a Runaways/Ramones type style to it I was tapping my foot and singing along! Track 2, C'mon, C'mon, C'mon is another song that will make you feel like dancing!
I really dig track 6, Pretty Tore Up. Loved track 7, Got Love For Me (Honey Bee) this track reminds me of a good ol' KISS tune, Gene Simmons style. It's a cool song! I also really like I wanna Kill Your Pussycat. Cool play on words and a catchy tune!
Based on what I have heard there isn't a bad track here, they are all good, fun rocking tunes! Fans of the bands listed above and Cheap Trick will enjoy these songs.
Thank you very much Brian for sharing them with me and for allowing me the privilege of writing this review for you, glad to call you friend and I enjoy your music very much.
Here is a listing of all the tracks:
1. ALL DRESSED UP (No place to go)
2. C'MON, C'MON, C'MON
3. D.T.F.
4. GO DOWN
5. FEELS SO GOOD
6. PRETTY TORE UP
7. GOT LOVE FOR ME (HONEY BEE)
8. VIXEN
9. SHUT UP, SHUT UP (GIVE ME A REASON)
10. I WANNA KILL YOUR PUSSYCAT