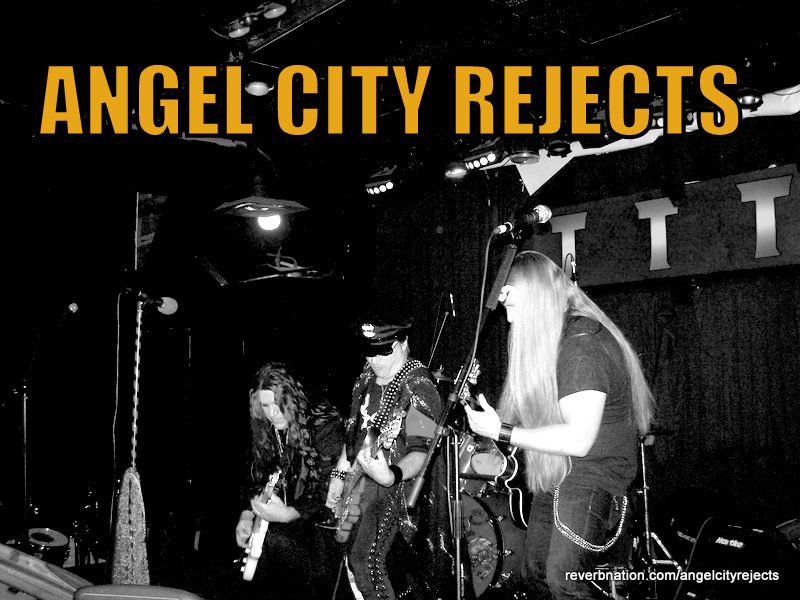 ANGEL CITY REJECTS started out as a Project I wanted to do back in California in 2010 as I was getting ready to move. I thought it would only last a few shows, but it ended up lasting 3 years.
I approached a friend of mine Ace Blackstone (who was in Blackstone with his then Wife Noel on Drums). I asked him if he'd be interested in doing this project, some originals and some covers. I had brought in Chris Jamison who was playing Drums in CRY ENVY with me. SO he asked Noel too switch over to Bass and we had the 1st Version of ACR.
We came up with a set list of Covers like Merry-go-round, Live Wire, Lack of Communication, Shot down in Flames, Breaking the law, New York Groove and Breaking the chains, as well as 9 brand new Originals, WHITE TRASH, DON'T LOOK AT ME (In that tone of voice), LIFE SUCKS (It never swallows), SHE'S ON TOP, RUNNING ON EMPTY, SHE'S THE DEVIL, PLEASE, PLEASE ME & YOUTHFUL ARROGANCE. we played at least a dozen shows in Cali. then I left California for Colorado. and the band was done at least I thought, Then Ace called me and said he was moving there and once he did we started the band back up.
I recruited Chuck McQuatters on Drums and then we found Vasillious for the 2nd Guitarist spot, not being able to find a suitable Bassist I said the hell with it and picked up the bass. And there we were a 4 piece again, we practice and readied for our 1st Colorado Show. It wouldn't go over well. Our time was chopped and we didn't get to play a full set due to the sound man favoring the band before us and gave them more time.
Taken from the 1st COLORADO Show 2012
Cont...
So the show wasn't that great, and V as we called him, kind of was giving us the run around and finally we said we had to let him go. Then we began the search for a new Guitarist, as fate would have it only one guy answered, his name was Scott Tiede and he became the 2nd guitarist. All was fine and we began playing show after show, started at Hermans Hideaway, played others in Denver like, The Toad Tavern, The Lions Lair, Bushwackers, The Grizzly Rock and then The Union Station in Colorado Springs. we played over a dozen shows. Ace decided he would depart from the band in Feb of 2013 and we continued on as a 3 piece until Scott quit on Sept 1st 2013. Chuck decided he was moving back to Texas and I was left to go in and start recording a New Album which would become the next CRY ENVY Album.
Full Benders Show 1st in Colorado.
Below - LIFE SUCKS (It never Swallows) @ Dreamers in Sacramento, CA 2011 (on drums Chris Jamison, Bass Noel Blackstone) as wellas Ace on guitar and myself on vocals.
As a 3 Piece Live at the Oriental Theater 2013
EVERY TIME WE TOUCH - only time live will be recorded for CRY ENVY Album.. it was rough here tried to learn too many new songs for this show.
Only time Live - LET US PREY from the LAST ACR Show Aug 31st 2013 @ The Toad Tavern