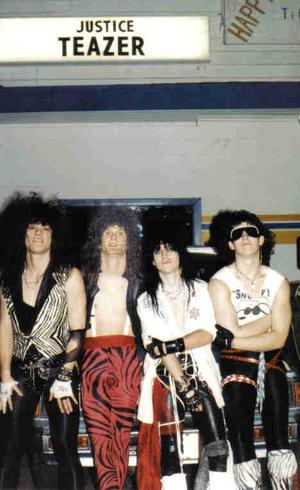 L-R / Randall Justice/Bass - Johnny Mills/Guitarist - Brian Roxxy/Vocals and Colin Stixx Stambusky/Drums
JUSTICE sprung from the ashes of 2 other bands, but it started before those two bands when Johnny and I tried to recruit Randall for a band we were forming, Randall had another Idea, he introduced me too Colin and the rest of te guys in BRATPAK, I joined them in Oct 87' Johnny joined Randall in LA ROCKS. After Randall and Johnny saw me perform they wanted me and Colin to join what would become JUSTICE, good thing because the asshole guitarist in BRATPAK wanted me fired and Colin was suppose to tell me this. That very day I said good because Randall and Johnny want us to form a new band. we did called JUSTICE between NOV and DEC we wrote 8 songs and performed for Friends on NEW YEARS EVE of 1987/88. and our first show was at The Lite Rail Inn on JAN 16th 1988. we would go on to play a dozen or so shows between New Years Eve 1987 till May 1988, Before Johnny decided he didn't want to play with me any longer and it was either they fire me or he'd leave the band so the guys decided it was easier to fire me then look for a new guitarist, funny thing is a month or so later Johnny left and joined Emerald City leaving Randall and Colin without a Guitars and a Lame Singer in my place, and though they tried to get me back in the band and we tried a few guitarist out The spark just was no longer there. Our songs were,
OUTTA THE CITY
I'M FALLIN'
PLEASE, PLEASE ME
YOU'LL TAKE MY LOVE
I DIDN'T WANT TO LOSE YOUR LOVE
DON'T GET CAUGHT (WITH YOUR HANDS IN THE COOKIE JAR)
TURN OUT THE LIGHTS
&
LIKE IT OR NOT
Below - Our first show Jan 16th Last 2 songs
In Closing Johnny Mills eventually moved back to San Luis Obisbo. I found out sometime in the 2000's he had passed away from Cancer. R.I.P. and well Colin and Randall I asked them to Join CRY ENVY they did, but eventually it bit me in the ass like it always has, Colin ( from all I can see is Jealous of me for whatever reason and he quit Randy followed suit) Later Colin would try and fuck me over yet again (Thinking he is a singer, NOT) would steal my Guitarist, Drummer and bassist in 2008. There loss ha ha ha ha... my gain.