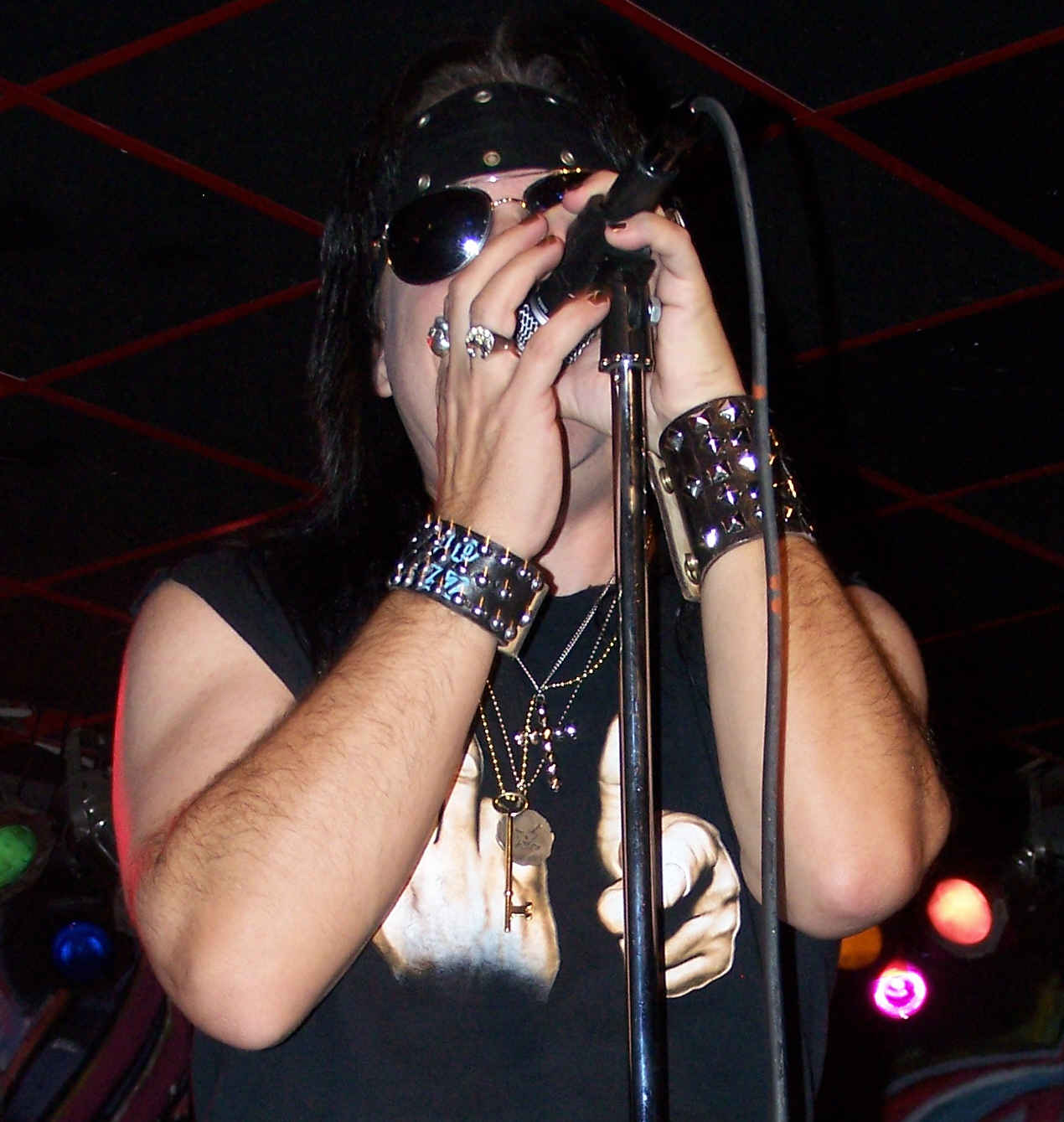 Brian Roxxy
20 Q & A's w/Brian Roxxy
1. NAME - Brian Roxxy
2. BIRTHDAY - DEC 1st
3. FAV. COLOR(S) - Blues mainly, and red and Black
4. FAV. BANDS - KISS, MOTLEY CRUE, CHEAP TRICK & BUTCH WALKER
5. FAV. MOVIES - Tons, The American Pie Series, The Austin Powers Series, HIGHLANDER, Harold and Kumar (Both), All Cheech and Chong & All the Pink Panther series (Peter Sellars was awesome in them)
6. FAV. THINGS TO DO IN YOUR SPARE TIME - Go to the Ocean, Spend time with my kids, but it's never enough time
7. WHAT BANDS AND INDIVIGUALS INFLUENCED YOU TO PLAY - early on it was KISS, then Cheap trick and Motley Crue As far as singers go, I would say Singer/Frontmen like, Paul Stanley, Vince Neil, Steve Perry, Robin Zander, David Lee Roth & Lou Gramm as well as a wide variety of music from the 70's.
8. SOMETHING MOST PEOPLE WOULDN'T KNOW ABOUT YOU? - I am a dork hahaha, I like to collect rocks/gems (Not from stores but in the wild). I love fantasy (swords etc..) play D&D when I can either on video games or the old school way.
9. WHERE ARE YOU FROM? - California, Sacramento born and raised.
10. IF YOU HAD EVERYTHING YOU WANTED AND NEEDED WHERE WOULD YOU RETIRE - On property somewhere, plant myself in the middle and stay there, mayeb here in Cali or up along the lower coast in Oregon.
11. WHAT DO YOU HOPE HAPPENS IN 2009 FOR YOU? - The new CRY ENVY CD takes off and we get to finally see all those friends of ours across the world.
12. FAV. SPORTS TEAM? - Denver Bronco's baby!!!
13. WHAT CD'S ARE YOU LISTENING CURRENTLY? - The new Butch Walker CD "Sycamore Meadows" (Awesome), Motley Crue's "Saints of Los Angeles", L.A.Guns - "Tales from the Strip" (this disc still fucking rocks my world) and I would say "Maya" by 1969"
14. CITY LIFE OR QUIET LIFE? - I would prefer property, I don't care to have neighbors in my business, very private person. and neighbors tend to piss me off
15. CURRENT STATUS? - Single and looking
16. DO YOU HAVE KIDS? - Yes, two beautiful ones
17. WHERE DO YOU HOPE TO SEE YOURSELF IN 5 YEARS? - have about 10 CD's released (2 a year), living happy, my own House on property, & Finally find someone I want to share my life with.
18. FAV. SLOW SONG(S) EVER? - "All by myself" by Eric Carmen, "Without You" by, Nillson, "Sorry seams to be the hardest word" by Elton John & "who wants to live forever" by Queen.
19. FAV. SONG(S) PERIOD? - wow that is hard to say, but I would say, "Starry Eye's" by Motley Crue, "The Show must go on" by Queen, "A Million to one" by KISS, "Fool for you anyway" by Foriegner, "TNT" by, AC/DC, "Y.O.Y.O.Y" by, Cheap Trick are some.
20. ANYTHING ELSE YOU'D LIKE TO SAY? - Just like to say I hope to visit all of our friends across the world as soon as we can, we love to play and want to for you all. Check out our myspace @ http://www.myspace.com/cryenvy
I thought I would list ALL the musicians that I have played with that I can still remember. Me being the Singer/Vocalist in all projects.
1983? Band "MIDWAY" a band in High School. Guitar - Jason Trotter / Bass - Jeff Herzog & Drums - Dan Hazlett - Never played beyond practice -
1985? Band "STRANGER" a band in my Junior year of High School - Guitar - Christian Baptise / Guitar - Tony Mason / Drums - Paul Childs & Bass - Brian Ferral - never played beyond practice -
1986 - "JESTER" Out of High School - Bass - Randall (Wong) Justice / Guitar - Cliff (Almendariz) Currie / Assorted drummers (could never decide on one, Felt the problem for that was Randall. So we kicked out Randall)
1987 - "NASTY" Guitar - Cliff Currie (R.I.P.) / Drums -Dan Hazlett / Bass - Dave Edwards (Davy Blakk) - Recorded a video of the rehersal, but I felt the band wasn't moving forward fast enough and decided to move on. We had 10 Originals.
1987 - "BRATPAK" - Guitar - Jimmy Tuttle / Bass - Billy Black / Drums - Colin Stambusky / Only played one show with this band, because I took away Jimmy's spotlight since it was his band, which was fine it was a bit cheesy concerning the songs. 1 of my songs we're used called "TAKE IT OR LEAVE IT"
1987-88 - "JUSTICE" - Bass - Randall Justice / Drums - Colin Stambusky / Johnny Mills (R.I.P.) whom I introduced to Randall and Randall introduced me to Bratpak) - Some Live Video's are out there. My time in this line-up didn't last because Johnny and I didn't get along, so he wanted me fired. Randall and Colin fired me, played a couple shows with a shitty singer before Johnny bailed on them. They asked me back and we tried to find a new guitarist before I said I was done. 8 songs we're written in this band Lyrically I wrote all 8.
1988 - "WIDOW" former guys from a Band called KattZRoxx which I thought we're cool and they liked me. Bass - Larry Lee / Guitar - Paul Klien & Drums Chris Rust. We played only one show that didn't even get through half the set before a Riot in the club broke out. Those songs are recorded as well as a tascam version of "The kids are gonna fight" All songs we're Larry's
1989 - "ANGOLA GREY" (I came up with the name)- Guitar - Troy Kreb / Guitar - TJ (though didn't play live with us) / Bass - Brian Ferral & Drums - Colin Stambusky. / "we had 6 or 7 songs Lyrically I wrote, Troy wrote the music. We did 1 show @ Club Me.
1989? - "EMMA G" - Guitar - Gary ? / Drums - Mark ? we wrote about a dozen songs, but never played live.
1989/90 - LIARS n THIEVES - Guitar - Kevin ? (was from L.A.) Bass- Zakk / Drums - Rob ? - (wrote several songs ultimately it fell short)
1990-91 - "VAMP NASTE' " ( I came up with the name)- Guitar - Andy Bolen (Lawson) / Guitar (forgot his name) / Bass - Zakk / Drums - Tommy Jacobs ( did one show @ The Boardwalk, we had 10 songs).
1991 - CATHOUSE THURSDAY - ( I came up with the name from the old western movie of the same name) - Guitar - Andy Lawson / Bass/Guitar - Scott ? / Drums - Colin Stambusky ( Andy and I wrote a number of songs also bringing in the ones we did in VAMP NASTE, Though I quit before we hit the stage).
from 92 - 2003 I took a break from playing though I continued to write and write for others.
2003 ( I created CRY ENVY & came up with the name before anyone else was in the band) guitar - David O'boyle we wrote 8 songs, David decided he didn't have the time to continue So in 2004 I recruited Bret Santti on Guitar, Drums - Colin Stambusky & Bass - Randall Justice. in 2005 Bret left and Linus Oliver came in. In 2006 Colin in a drunken told Linus he quit the band, followed by Randall who's wife wouldn't let him play if Colin was not in the band. I then pulled in Ziggy (Steve) Kohler on Bass and Shane Foxx (a.k.a) Chris Jamison on Drums. Shane was let go in 2006 replaced by C.C. (Carlos Chitava). Followed by Ziggy's departure in 2007. I pulled in for 1 show Eric on Bass, then came Noti Bullets on Bass 2007. I fought for him (in the end he never believed this do to a major liar named Linus) this line-up lasted until Feb 2008, when Linus and C.C. tried to pull a coup and kick me out of the band that I started. That wasn't going to happen by a couple of lying asshole. So they went their way taking Noti with them. 2008 Guitar - Erikk Soprano (Eric Wells) / Drums - Mike Emmons / Bass - Alister Coxx (a.k.a) Alan Harrison till Oct 2008 - over the next year CRY ENVY changed the Drummers and bassist. 1st came Adam Christii on Drums with Chris Michaels on Bass, Then they departed and Alan came back and we added a Psycho drummer who I won't say his name.
in 2009 CRY ENVY went on temp hold and "ROXXY" was created though it wasn't a far stretch from what CRY ENVY was. we just added a new drummer named Johnny ??? played around 10 shows. Then Johnny was out and CRY ENVY was back in play this time bringing back Chris Jamison on Drums. This line-up would stay intact until June 2010 Ace Blackstone played the two final shows in June along with Erikk.
2010 - I put CRY ENVY on hold and started what was only going to be a fun project named "ANGEL CITY REJECTS" I brought with me Chris Jamison on Drums and added Ace Blackstone on Guitar and Noel Blackstone on Bass. in CA we did over a dozen or so shows. In 2011 I decided to finally leave CA and move back to CO where I had lived for most of the 90's.
Ace followed in 2011 and I found Chuck McQuatters for the drums and added a 2nd guitarist named V. (Vasillious) and I (Brian) deiced to play bass since we could never find anyone decent enough. After one show with V we decided he wasn't the one for the spot, and we searched and added Scott Tiede on Guitar. Ace would leave in 2013 and ACR continued as a 3 piece until Aug 31st 2013 our last show.
And now we come back full circle to CRY ENVY 2013... 10 years after starting CRY ENVY
Songs Either I wrote or we performed (If there is a * this would denote that it was not written by me. ** would mean I wrote the lyrics, But not the Music. If not noted means I wrote the lyrics) *** means I wrote Music and lyrics.
Midway - Only did cover songs like, "You can still rock in America" and "The Mob Rules" and so on.
Stranger - honestly can not remember the songs.
JESTER - "Vixen", "Take it or leave it", R.I.P. Ripped into pieces, "You'll take my Love", "Wild, Wild Girls", "Rose Tattoo*, "Women in Leather * , "All I wanted. (wrote all the lyrics except *)
NASTY - Same as above, Just a name change
BRATPAK - a bunch of songs I can barely remember one we used I wrote music and lyrics called "Take it or leave it" others were songs like "Love at first sight" and a bunch others meaningless songs to me I didn't write them and they weren't that memorable.
JUSTICE - "You'll take my love", "Like it or not", "I didn't want to lose your love", "Don't get caught (with your hands in the cookie jar)", "I'm Fallin", "Outta the city", "Please, Please me", "Turn out the lights". (wrote all the lyrics)
WIDOW - "The kids are gonna fight *,(re-wrote these), "Shot for Shot", "Kick down the wall", "Screamer", "Kill for thrill", "Love maker"
ANGOLA GREY - "on the prowl", "Don't cry suzie", "Bottle of whiskey", "Wine, woman and Song" and one other song. Troy wrote the music and I the lyrics.
EMMA G - September Rain, (gotta think on the rest)
Liars and Thieves - Can not remember any but we had a bunch.
VAMP NASTE' - "You take your road", "Hearts gonna break", "Desperate World, Desperate Times", "Fire at will", "On the prowl", (gotta look at some video). Music by Andy Lawson, Lyrics by Me
CATHOUSE THURSDAY - "Shoot em down", "Welcome to my house", "hearts gonna break", "Your dime, my time", "Don't try and save me" (a few more). Music by Andy Lawson, Lyrics by Me
CRY ENVY 2003 - "Eye's on you", "Leave me burn", "Blow by Blow", "Run hard, Run Free", "She's Afraid", "Let us prey" Music by David O'Boyle. Lyrics by me.
2004 - 2010 - She leaves the lights on ***, Tell it like it is ***, Never say Please ***, Turn me on ***, She's got me (on her Lips ** , Down, Down ** , A love to last all time ** , Tip of my tongue **, Fight for your life, Kid ***, Sweet Cyanide **,
You're my dirty one, Livin to lose, Over you, We could be meant to be, Give it to me, I want your... sex, I'll be the one, All your lovin,
She's does a body good,... more later